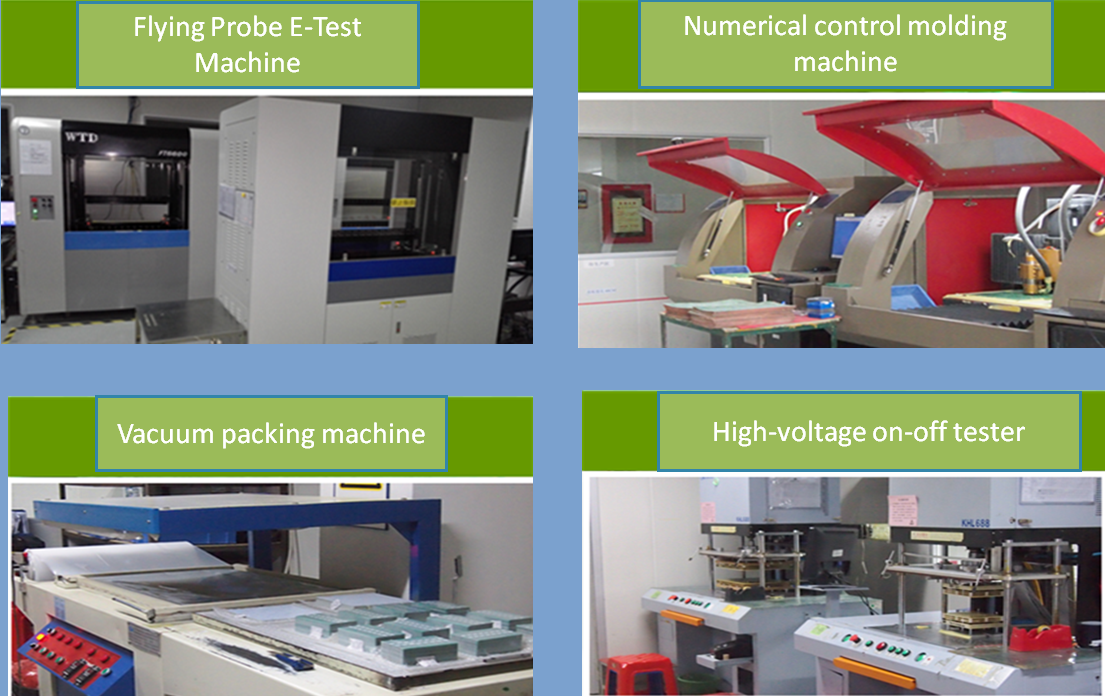 What is a DHI board?
High Density Interconnector (HDI), is a circuit board with a relatively high density of line distribution using micro-bumping. The HDI board has an inner layer line and an outer layer line, and uses a process such as drilling and metallization in the hole to connect the inside of each layer. HDI boards are generally manufactured by a laminated method. The more times the layers are stacked, the higher technical grade of the board is. The common HDI boards are basically one-time laminated, high-grade HDI uses two or more layers of technology. Meanwhile it adopts advanced PCB technology such as stacking holes, plating holes, and laser direct drilling to finish.
Advantages of the HDI board
1. When the density of the PCB increases beyond the eight-layer board, the cost will be lower than the conventional complicated pressing process if manufactured by HDI board.
2. The electrical performance and signal correctness of HDI board are higher than traditional PCB.
3. HDI board has better improvement for radio frequency interference, electromagnetic wave interference, electrostatic discharge and heat conduction.
4. The most common reason for using HDI technology is a significant increase in packaging density. The space obtained by the finer track structure can be used for components.
5. Reducing overall space requirements will result in smaller board sizes and fewer layers.
Electronic products continue to develop toward high density and high precision. The so-called "high", not only refer to improve machine performance, but also reduces the size of the machine. High-density integration (HDI) technology enables the design of end-product to be more compact while meeting higher standards of electronic performance and efficiency. Currently, many popular electronic products, such as mobile phones, medical devices, notebook computers, automotive electronics, etc., are mostly using HDI boards. With the upgrading of electronic products and the needs of the market, the development of HDI boards will be very rapid.
We're capable of manufacturing HDI PCB up to 20 layers in various structures.
Check our HDI PCB capabilities by below table:
Feature
Capability
Quality Grade
Standard IPC 2
Number of Layers
2 - 20layers
Build Time
2days - 5weeks
Material
FR4 standard Tg 140°C,FR4 High Tg 170°C, FR4 and Rogers combined lamination
Board Size
Max 500*600mm
Board Thickness
0.25mm - 5.0mm
Copper Weight (Finished)
0.5oz - 6.0oz
Min Tracing/Spacing
3mil/2.8mil
Solder Mask Color
Green, White, Blue, Black, Red, Yellow
Silkscreen Color
White, Black, Yellow
Surface Finish
HASL - Hot Air Solder Leveling
Lead Free HASL - RoHS
ENIG - Electroless Nickle/Immersion Gold - RoHS
Immersion Silver - RoHS
Immersion Tin - RoHS
OSP - Organic Solderability Preservatives - RoHS
Min Annular Ring
4mil, 3mil - laser drill
Min Drilling Hole Diameter
6mil, 4mil - laser drill
Other Techniques
Flex-rigid combination
Via In Pad
Buried Capacitor (only for Prototype PCB total area ≤1m²)
Discuss your HDI printed circuit board today? You can click right side button contact us for a detailed quote.